Grounded since late December, the unbeaten Flightline took to the air this week. Destination—New York.
The brilliant but lightly raced colt departed his Southern California base on a cross-country flight and arrived at Belmont Park June 7 for his long-awaited return to racing in the June 11 Hill 'n' Dale Metropolitan Handicap (G1), the $1 million race known as the Met Mile. The Met Mile will mark just his fourth start overall and his first race since he left observers awestruck in the Dec. 26 Run happy Malibu Stakes (G1), a race at Santa Anita Park he won by 11 1/2 lengths.
Since then it's been a waiting game for his connections and fans.
"It is frustrating," trainer John Sadler said of Flightline's time on the sidelines. 'People say, 'Why don't you run him more?' We would have run him more if we could have. He's had some little hiccups.
Sign up for BloodHorse Daily
What also reflects on him is his stellar form, even preceding the Malibu. He previously won an allowance optional claimer and maiden race, also in Southern California, by a combined margin of 26 lengths. Those races, like his Malibu, came in scorching time. He ran six furlongs in 1:08.75 in his unveiling last April at Santa Anita, ran even faster over the same trip at Del Mar Sept. 5 in 1:08.05, and then sizzled seven furlongs at 1:21.37 in gliding to victory in the Malibu.
He resumed breezing Jan. 30 following the latter race, pointed toward the March 5 San Carlos Stakes (G2) at Santa Anita, but was withdrawn from consideration for the seven-furlong race in February after a physical setback.
"He was off in his hock a bit after a workout," Sadler said. "We did all the diagnostics, all the fancy stuff you do with a fancy horse, and it basically came down to, 'You gotta slow up here for a little bit,' and that's what we did and then take him back up. And knock on wood—I'm sitting here at my desk (knocking)—everything stays good."
He has also looked good at a couple of easy spins over the Belmont oval since arriving from California on Tuesday.
He has recorded breezes on about a weekly basis in California since April, one fast work after another, suggesting that even without a start this year, he is at a high level of fitness. Twice jockey Flavien Prat traveled from his current New York base to breeze him at Santa Anita.
"He seems like he's doing as good if not better than before so we expect a big run," Prat said.
Still, the Met Mile should test him more than any other prior race, coming over a new surface, following long travel, and against a short but high-class field at a distance a furlong longer than he has ever traveled.
"Here's the thing—with him, he's so special. You really wouldn't try this with a normal horse, but he's not a normal horse. He's an exceptional horse," Sadler said. "It's not ideal, but with his ability and what he can do, we think he's the whole package."
Exceptional was always what Flightline seemed destined to be. By Tapit out of the graded stakes-winning Indian Charlie mare Feathered he sold in 2019 for $1 million at The Saratoga Sale, Fasig-Tipton's select yearling sale in Saratoga Springs, NY
Flightline sells for $1 million in 2019 at The Saratoga Sale, Fasig-Tipton's selected yearling sale in Saratoga Springs, NY
West Point Thoroughbreds signed for his purchase but the racing partnership wasn't alone in being attracted to the colt. According to Terry Finley, president and CEO of West Point, within an hour other partners joined in ownership that would include Hornis Racing, Siena Farm, Summer Wind Equine, and Woodford Racing. Hronis Racing secured the biggest piece, Finley said.
Some of the owners were already familiar with the colt, with Jane Lyon's Summer Wind Equine breeding him, and Woodford Racing having ties to Lane's End, who consigned Flightline to the sale.
Anthony Manganaro's Siena Farm had previously teamed with West Point as part of a group of owners that captured the 2017 Kentucky Derby Presented by Yum! Brands (G1) with Always Dreaming .
Besides the Summer Wind's and Lane's End's existing ties to the colt, the other common denominator, Finley said, was agent David Ingordo, who does bloodstock work for multiple ownership partners, including West Point.
Finley commended Sadler for his horse-first handling of the colt, and all the owners "rowing in the same direction."
"I feel a strong stewardship with him to have him at his best when he heads over there because he's that kind of horse," Sadler said.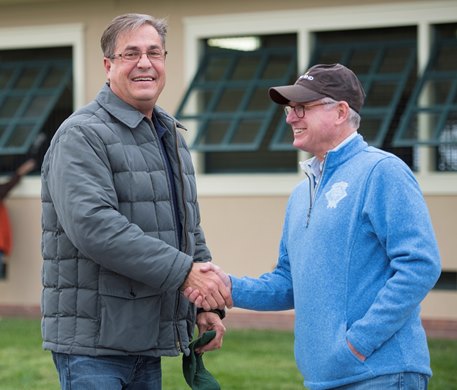 Trainer John Sadler (left) with Bill Farish of Lane's End in 2018
Flightline's connections have also begun to think about his post-racing career. Already ensured a stallion career, Flightline could potentially become even more of a hot stud prospect if he could win a race such as the Met Mile, deemed by farms and breeders as a stallion-making race.
"I think it's the premier race for older horses in New York," Finley said. "I think people all over the world look to the Met Mile that way. The data, the statistics of the Met Mile, it's probably the best endorsement in racing. It's one that probably makes the biggest mark in the gene pool in the stallion business , especially in Kentucky.
A variety of traits are necessary to win the one-turn, one-mile race—from speed, class, and determination.
Despite not winning their first stakes until the closing months of 2021, Aloha West and Flightline flirted with year-end honors last year, second and third, respectively, behind the finishing Jackie's Warrior in Eclipse Award voting for North America's champion male sprinter.
Whether Aloha West and Flightline can be effective at a mile will be answered Saturday, a couple of hours before the Belmont Stakes Presented by NYRA Bets (G1). Neither sprinter has raced beyond seven furlongs.
"When you see a horse go that fast, you say, 'Will he go further?'" Sadler said. "But if you watch his races, you say, 'That horse ain't slowing up at the wire.' He's just floating through it. I think he will be better the further he goes.
Finley is excited to see Flightline back racing. For months, he has drawn pleasure from watching videos of Flightline's works, which largely have bullet come every week, including a half-mile drill June 5 in :46 4/5 at Santa Anita in his final Met Mile tune-up.
Saturday, racegoers get to see if Flightline can be as special at age 4 as he was at 3.
"Even people outside of our camp, they're interested in this horse. They see him as the prospective star that he could be," Finley said. "You do pinch yourself, like why? Or how? Everything fell into place and we got lucky enough to be a part of this horse because he's a life changer."
.