Hugh Robertson takes a modest approach to sourcing horses for his racing stable, a four-figure budget that has turned into six-figure earners on the track for the 71-year-old native Nebraska. Focusing on the horse and how it moves while forgoing attractive pedigrees has helped make Robertson successful. He's trained 1,561 winners, with purse of more than $32.2 million, according to Equibase. His son McLean has followed in his footsteps and is approaching 1,500 victories. Hugh Robertson spoke with BloodHorse MarketWatch about his lifetime with horses and his current star, Two Emmys.
MarketWatch: How did you get your start in the industry?
Hugh Robertson: I always had horses, but not racehorses or thoroughbreds. I loved going to the races and my whole family went to the racetrack.
I was in college, studying pre-law. I went a couple of years to college but decided to take a semester off and go to the racetrack and work and never went back to college. I started training horses later that year. Actually, I bought a horse from Frank Kirby and won my first two races with her, which I'm sure was pure dumb luck. I thought I was pretty smart. I wasn't.
I went in, and got my trainer's license at Ak-Sar-Ben (in Omaha, Neb.)…I was working for a guy named Robert Lee. He got to be friends with (a steward) and he went in and told the steward before I ever went to apply. They didn't even make me take the test. I just went in and they said, 'Do you want to be a trainer?' and I said, 'Yeah, I do.' He said, 'I guess the only way you're going to learn is to start out doing it.' He signed my license and that was it. That was 52 years ago.
Sign up for BloodHorse Daily
MW: Which tracks have you frequented over the years, and when did you get your first success?
HR: Being from Nebraska. I started at the little tracks there. I was there until the late '70s… And then I went out east to Penn National and I stayed out east for 10 years before I went back down to the Midwest and came to Chicago. I've been in Chicago as my home base for the last 30 years, maybe more.
The first good horse I had was Polar Expedition (by Kodiack). He was a really good Illinois-bred, a little tiny thing that I'm sure you could have bought for $1,000. I had a client (James Cody) that raised him and he just was all racehorse and ended up making $1,491,071 in six consecutive years (racing a total of seven years). He finished with a record of 20-5-7 in 49 career starts. He was a really good horse.
Polar Expedition won the 1993 Arlington-Washington Futurity (G2) and Breeders' Futurity (G2). He also won the 1994 Jim Beam Stakes (G2), the 1996 Washington Park Handicap (G2), and the 1998 National Jockey Club Handicap (G3). He hit the board in 22 black-type events.
MW: You have bought many successful horses. What do you look for at the sales?
HR: I was always going to Keeneland and Fasig-Tipton. I used to go to Ocala but now that I'm 71 years old, I don't go to too many sales anymore. Basically, I look for horses that move. You know I like the way they move. And I want them to be inexpensive because I don't have deep pockets like some of these guys do.
I don't really care about the bloodlines. I look at the horse and see how it moves. And if I like him, and I can buy him, I buy him. I get outbid a lot of times… I just watch the way they walk and if I think they move smoothly, I might give him a second look. And like I said, if they go reasonably, I try to buy them.
A lot of people buy horses that I can see have got no way of ever making it to the races, but they've got good breeding. They pay an arm and a leg for them half the time. You just can't go to a sale thinking you're going to buy a specific horse, because you never know what they're going to bring. You just have to pick up a few that you like. When one of them goes within your price range, you buy him. It's a matter of luck after that. I think it's mainly the way you take care of them once you have them and that you are patient with them, and if they start getting problems, you give them the time off. They last a little longer. Fortunately, I've had good clients. When I go to the sales I usually buy them for myself and then sell off parts of them if I've got an owner that likes one of them… I don't usually try to make any profit on them.
MW: Tell us about your grade 1 winner Two Emmys what stood out about him (purchased from the 2017 Keeneland September Sale for $4,500)?
HR: "I knew he'd be cheap because he was a June foal and he was small. I liked the way he looked and moved and I knew we wouldn't have to pay too much for him. We had just got outbid on one five hips earlier. The Wolfes were there with me at the sale and I said, 'There's a little horse back there that I like and I think he'll go for nothing.
When I bought him for $4,500, I think they maybe thought they made a mistake and that they didn't want that cheap of a horse. It isn't what you pay for them that makes a difference in the long run, it's how they do. He had a few problems when he was young, but the English Channels were late developers anyways. I just waited on him and fortunately, he got good later on in his life.
Two Emmys gained graded status last year at 5, finishing second in the Muniz Memorial Classic Stakes (G2T), Arlington Stakes (G3T), and Sycamore Stakes (G3) and winning the Mr. D. Stakes (G1T). He came back this year to run third in the Colonel ER Bradley Stakes before posting two more wins in the Muniz Memorial Classic Stakes Presented by Horse Racing Nation (G2T) and the Outbound Ike Stakes.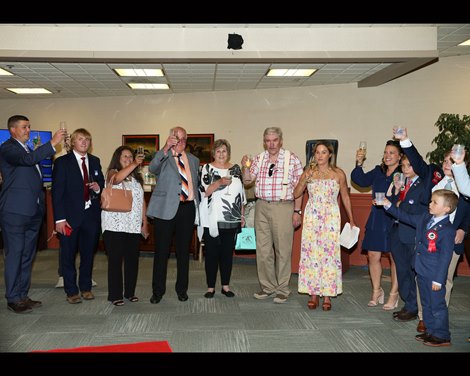 Celebrating Two Emmys win in the 2021 D. Stakes at Arlington Park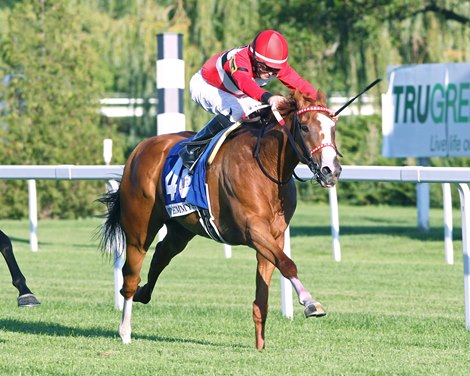 Two Emmys leaves it all on the grass to win the Mr. D. Stakes
MW: What is your philosophy when training?
HR: You don't do the same thing with every horse. Some of them are precocious and want to be 2-year-olds. Polar Expedition was an excellent 2-year-old. I ran him six times as a 2-year-old and he won five and a few stakes. From the minute I had him, he did everything right. You just have to look at the individual horse and train them accordingly.
MW: How did your son McLean become involved with racing?
HR: Mac was always a barn rat. He came to the barn with me when he was 2 years old. He would walk around in front of the horses, and occasionally if one was real quiet, he'd get on their back and ride them around the barn while I was cooling them out. He was a good football player, he played college ball one year and then decided he'd had enough of that. But he stayed in college for 3 1/2 years and majored in marketing.
He called me one day and said, 'Dad, I can't stand it anymore, this college.' He had a year to go and said he was coming to the racetrack to work. He said, 'If you don't hire me, then I'll go work for somebody else. I said, 'OK, you better come work for me then.' I couldn't really tell him to stay in school because I did the same thing.
I get the horses to where they're broke out of the gate and then I send them to Mac because he has most of the clients now. I've got a few clients myself, but Mac has the ones with the money, that want to spend. He's younger and can do more work than I can, I'm pretty worthless around the barn.
.